Upcoming Great Western Tour August 2018: RPG Research, RPG Therapeutics, Wheelchair Accessible RPG Trailer & RPG Bus.
by Hawke Robinson —
published

Jun 11, 2018 11:48 AM,
last modified

Jun 11, 2018 11:48 AM
We are getting ready for our longest tour yet. From Spokane Washington, to Sand Diego California, to Tucson Arizona, and back! The wheelchair accessible RPG Bus and RPG Trailer will be on the road for weeks, meeting with people, providing tours, example music and RPG sessions, presentations, and more. We will be posting the tour schedule (as we nail it down with others), in coming months. Bookmark this posting for updates. We would love to meet you in person.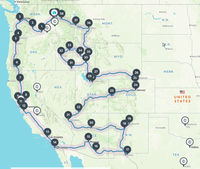 Tentative schedule proposed so far:
Leave: Spokane Washington - Monday, August 13th, 9:00 am.
Details coming soon
Return to Spokane, Washington: somewhere around August 31st to September 8th, 2018 range.
Details coming soon!
Updated tour map:https://www.google.com/maps/dir/1312+N+Monroe+St,+Spokane,+WA+99201/Oakland,+CA/San+Diego,+CA/Tucson,+AZ/Las+Vegas,+NV/Salt+Lake+City,+UT/Missoula,+MT/Coeur+d'Alene,+ID/Spokane,+WA/@39.6196128,-125.6937952,5z/data=!3m1!4b1!4m56!4m55!1m5!1m1!1s0x549e18f8218f9397:0x6a1b8ca73b2218db!2m2!1d-117.4263127!2d47.6696845!1m5!1m1!1s0x80857d8b28aaed03:0x71b415d535759367!2m2!1d-122.2711137!2d37.8043637!1m5!1m1!1s0x80d9530fad921e4b:0xd3a21fdfd15df79!2m2!1d-117.1610838!2d32.715738!1m5!1m1!1s0x86d665410b2ced2b:0x73c32d384d16c715!2m2!1d-110.9747108!2d32.2226066!1m5!1m1!1s0x80beb782a4f57dd1:0x3accd5e6d5b379a3!2m2!1d-115.1398296!2d36.1699412!1m5!1m1!1s0x87523d9488d131ed:0x5b53b7a0484d31ca!2m2!1d-111.8910474!2d40.7607793!1m5!1m1!1s0x535dcc2a50f367cb:0xe9e31277ca94802e!2m2!1d-113.9940314!2d46.8721284!1m5!1m1!1s0x5361b4f8ba557c8f:0x5fe5995b05bf5290!2m2!1d-116.7812225!2d47.6734632!1m5!1m1!1s0x549e185c30bbe7e5:0xddfcc9d60b84d9b1!2m2!1d-117.4260465!2d47.6587802!3e0