Compare Therepeutic and Educational Differences Between Different RPG Genres
by Hawke Robinson —
published

Oct 28, 2012 08:20 PM,
last modified

Aug 14, 2015 07:49 PM
Determine if different role-playing game genres have any measurable differences.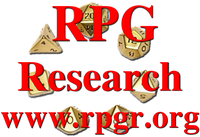 Examples include comparing fantasy-based role-playing games to horror, science fiction, cowboy westerns, anime and comic book characters, historical or religious settings, etc.
Beginning with the primary baseline using Fantasy-based RPG's, test for any differences in results with other genres compared to the fantasy genre baseline. If any differences found through immediate and delayed testing, perform experiments to isolate the differences that are causing the different effects on participants.