Creating LARP Program for Autism Spectrum Toddlers
by Hawke Robinson —
published

Jun 20, 2015 05:05 PM,
last modified

Feb 07, 2023 08:46 AM
Due to excessively strict NDA of the organization, I am very limited in what I can post, but letting those following the RPG Research, beginning working with autism-spectrum toddlers today from a recreation therapy approach, and developing an activity program that is LARP (Live-Action Role-Playing) quest-style for this population group, that we will actually implement in the next few weeks.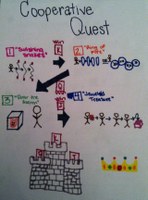 Creating a TON of documentation for this process. Hopefully I can get permission down the road to discuss in much more detail.
After it is over, hopefully I can release a "sanitized" version of the LARP portion of the detailed documentation of the program to the public (not the organization's program, but the program that I, and 2 others collaborated to create as part of our class project in Recreation Therapy Program Planning).
I am really excited to finally be testing application of some of the hypotheses I've been talking about for years to a real-life group. :-)