Enhanced Video - RPG as Therapy Presentation - Seattle Childrens Hospital WSTRA Con 16
by admin —
published

Jun 20, 2015 05:05 PM,
last modified

Feb 05, 2023 12:22 PM
Here is the improved and enhanced audio/video of the presentation "The Therapeutic and Educational Uses of Role-Playing Games (RPG) as Intervention Modalities for Individuals and Groups from the Therapeutic Recreation Perspective" at Seattle Children's Hospital for the Washington State Therapeutic Recreation Association (WSTRA) 16th annual conference. The live version of this presentation was certified for Continuing Education Units (CEU's) by the American Therapeutic Recreation Association (ATRA). This the sound fixed, and includes the slideshow added to the video to be easier to read. Closed captions coming soon too.
enhanced-video-rpg-as-therapy-presentation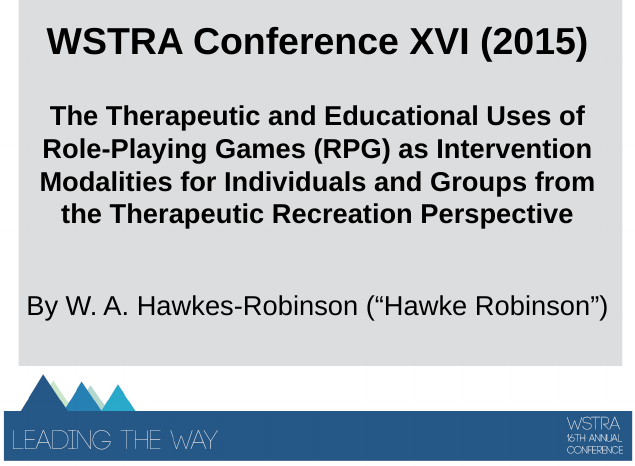 This is the improved video and audio version of this presentation recording.
This was my first presentation at a professional setting on the topic of using role-playing games as an intervention modality to achieve educational and therapeutic goals.
The presentation is 90 minutes including a short Q&A session.
The conference had around 70 attendees total, and usually had to session happening simultaneously, so people had to decide during each session which presentation to attend. I was concerned that attendance for my session would be low because it is a completely new modality that hasn't been considered by TR professionals previously (at least in 10+ years of speaking with TR professionals about the topic, I haven't found anyone yet that considered it), and because the other topic was "Assessment of Participation of Children with Disabilities", both a more mainstream and compelling topic for TR professionals.
Much to my pleasant surprise the room was filled to capacity, with 35 attendees, including the president of WSTRA, Professor Emily Messina. http://www.wstra.org
The slide show needs some more polish, and I need to improve my timing, and the embedded video clips unfortunately didn't play** over the projector (thank you very much NVidia for embedded Digital Rights Management (DRM)), but other than that it seems the presentation went very well. The audience was engaged, and after the presentation many came up and explained how much they enjoyed the presentation, and many stated they had an "a ha" moment now understanding the potential.
** I went ahead and embedded the video clips and the slide show in this enhanced version of the video. You can view/download the PDF version of the slide show here (I still need to clean it up, especially the citations pages at the end):
http://rpgresearch.com/documents/rpg-research-documents/wstra-2015-rpg-research-presentation-1-20150410x.pdf/view
Several stated they will now plan future program plans with RPG as an intervention modality, and they would like my help in developing the programs, including a group from Canada as well!
I am an undergraduate (senior, part-time) student at Eastern Washington University (EWU) working on an interdisciplinary degree in Recreation Therapy, Music Therapy, Neuroscience, & Research Psychology. I hope to finish the bachelors by the end of 2016. I am planning to begin my TR internship (16 weeks) in Spring/Summer 2016, and then after get my psych internship completed (10 weeks). I also plan to apply for the EWU Masters degree in Psychology with Experimental Concentration, and some more TR & MT related programs. If everything goes as planned, I also plan to go on to apply for a relevant doctorate-level degree.
I am working on the closed captions. When I finish the captions, I will export them to a transcript for those that have been asking.
Many thanks to Katy for helping with the setup and tear-down, and her unwavering support! My heartfelt gratitude to Professor Messina for her guidance and support.
Many thanks to everyone else's support, this was a significant milestone after 10+ years of research work.
I welcome everyone's feedback, comments on any existing programs you know about (if not already listed on the RPG Research front page or in the presentation), and any questions anyone would like answered.
I apologize for any mistakes made, and welcome extras eyes and ears to catch any errors so I can correct them for future presentations.
I hope everyone finds this a useful presentation.
Enjoy!
-Hawke Robinson
Here is the new enhanced video:
 Link to video: http://youtu.be/zWsmElmhjdk
DESCRIPTION This session will provide background and research information about the effects of role-playing gaming in all forms upon participants. It will address the many inculcated concepts in popular culture regarding role-playing games and gamers, and present the existing relevant research. All formats of role-playing gaming will be discussed, including Choose Your Own Adventure (CYOA) books, offline and online computer-based role-playing games, live-action role-playing (LARP), and tabletop role-playing games. This will include the potential benefits, and deficits, from participating in these various recreational activities. The session will initially provide examples of each game format in a typical recreation setting, then proceed with the existing research using RPG for various educational and therapeutic interventions from other disciplines (psychiatry, psychology, education, sociology, cognitive, behavioral, etc.), then illustrate how the application of TR methodologies are an excellent fit for these activities as an intervention modality for many populations in group and individual settings.
OUTCOMES Identify and explain existing research indicating the benefits and risks of diversionary use of RPG in all major formats. Identify and explain examples of specific areas that non-adapted RPG can directly achieve TR-related client outcomes. Identify specific populations that can benefit from a TR-based RPG intervention program.Identify examples of specific areas that applying TR methodologies to adapted RPG can achieve specific client outcomes. Specify areas still needing further research for future use of TR-based RPG.
For posterity, here is the unedited, raw, audio-faulty, unenhanced original video: 
 Link to video: https://www.youtube.com/watch?v=ktMqL1s8jxI