RPG Research Gamers Survey Phase 2 - This Time At WorldCon 2015
by Hawke Robinson —
published

Jun 20, 2015 05:05 PM,
last modified

Feb 05, 2023 12:22 PM
Now that the 73rd WorldCon / Sasquan is over, the data entry from phase 2 of the surveys of gaming / gamers begins. This project originally began in 2013...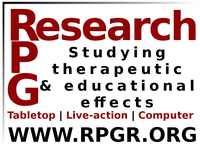 I first began this project in 2013 with multiples stages of Phase 1, providing surveys to gamers at local hobby gaming stores, local groups, and finally at Spocon 2013, for a total of 164 respondents. I did not have an Institutional Review Board (IRB) waiver, so when a peer-reviewed journal was interested in publishing those results, they were unable to do so without that paperwork.
Phase 2 received an IRB waiver thanks to Phyllis Eide, Ph.D., kindly offering to be listed as the Primary Investigator (PI), and getting the waiver through her connections with Washington State University (WSU). Many thanks to her, and many others that helped in this process.
Since I was on multiple panels, presentations, and running some events at WorldCon, I was not able to dedicate as much time to finding people to complete the surveys as I was back at Spocon, but did manage from Friday, Saturday, & Sunday, to get 125 respondents, 29 of which include comments on the back. Additionally, since WorldCon had more than 1,400+ events, it was challenging to find people not in a rush to the next event, and there weren't many long waiting lines. Finally, the form of the Phase II survey was more detailed and took longer for participants to complete, so this also impacted the total number.
The survey is titled "SURVEY ON GENDER EXPERIENCES IN THE GAMING COMMUNITY AND/OR INDUSTRY". It is a self-report questionnaire of gamers and their experiences or observations of any forms of gender bias, sexual harassment, etc. The screening questions: "Have you ever participated in any form of role-playing game: tabletop, live-action or computer-based?" and "Are you at least 18 years old. If they answered in the affirmative, they were asked to complete the survey. 279 were randomly approached (they just needed to be sitting or standing still), 88 did not have RPG experience, 191 indicated RPG experience, 49 opted out of the survey (No: 24, Later: 15, Busy: 10), 17 were under age, 125 completed and returned the survey.
I am now dealing with a post-convention illness, but when recovered, the data entry process will take some time, and then the analysis will begin.
Many thanks to those kind enough to take the time to complete the survey, it is greatly appreciated!
Updates on this survey's progress will be provided on the http://www.rpgresearch.com website as milestones are achieved.
 My heartfelt thanks to all of the following people for their feedback, advice, guidance, help, and approval (at WorldCon 73) for making the implementation of Phase 2 possible:
Phyllis Eide, Ph.D., Associate Professor, Washington State University, College of Nursing, Spokane. Primary Investigator (PI).
Emily Messina, Ph.D., CTRS., Program Director, Therapeutic Recreation, Eastern Washington University (EWU), Cheney.
Sarah Lynne Bowman, Ph.D., Adjunct Professor, Richland College & Ashford University, Texas.
John L. Neace, Department Chair, Interdisciplinary Studies, EWU.
John Roll, Senior Vice Chancellor, WSU Spokane.
Donelle N. Howell, Ph.D., Assistant Professor, WSU.
Eva Schiavenato, Research Assocaite, WSU.
Jill Eastlake, Sasquan / WorldCon 73, Department Head.
Laurie Mann, 73rd WorldCon.
John Welker, WorldCon 73 Sasquan Gaming, Department Head.