Have Fun Learning InfoSec Through Role-playing Gaming
by Hawke Robinson —
published

Jun 20, 2015 05:05 PM,
last modified

Feb 05, 2023 12:22 PM
Tonight I begin play-testing the brand new Cryptomancer RPG by Chad Walker. It is a role-playing game specifically useful for teaching the basics of Information Security (InfoSec) to laymen (and professionals), in a fun way. It is first and foremost designed as a fun fantasy RPG setting (with the InfoSec twist), that just happens to teach basic InfoSec concepts and good (and bad) practices as a byproduct of participation.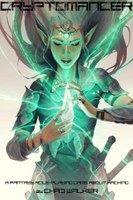 This RPG was just recently released. More information at http://cryptorpg.com/
I will be posting game thoughts/experiences/updates on the RPG Research Project website (http://www.rpgresearch.com), the Spokane RPG website (http://www.spokanerpg.com), and the associated Spokane & Couer d'Alene area RPG Meetup group (https://www.meetup.com/SCdA-RPG/). I may also publish the recorded audio/video of the session(s) on the website(s) and/or the RPG Research Youtube Channel: https://www.youtube.com/rpgresearch
More information on the plans for this group follows...
First meeting, Wednesday, August 3rd, 2016, 9:00 pm to 1:00 am.
NOTE: To get a feel for level of interest, if full, please join the waitlist to let me know if others might be interested in joining future sessions and/or forming other groups.
The creator of the recently released Cryptomancy RPG sent me some copies to play test. http://cryptorpg.com/ This is an RPG that uses a fantasy setting to help participants learn the basics of InfoSec in a fun RPG-focused way. It is first and foremost an RPG, and has the secondary benefit of the learning that can be applied in the real world. 
This is ideal for my background as a retired CTO/CIO & InfoSec consultant and published InfoSec researcher: 
https://www.sans.org/security-resources/malwarefaq/pptp-vpn.php
http://techtalkhawke.com/news/did-google-leave-out-pptp-for-chrome-os-because-of-my-paper
http://hawkenterprising.com/i-t
I will also be discussing this game (and our experiences so far), at the upcoming monthly 2600 meeting this Friday 5:00 pm -http://www.spokane2600.org
We will be learning this game from scratch. Right now I only have a few PDF copies (which will be on tablets), but a couple of hard copy books are on the way for future sessions. 
We will learn together about this game's campaign setting, how to make characters, and how to play the game. Of course my strong background in InfoSec will mean I can further enhance the experience and challenges (once I get a hang of the system). 
The first session is scheduled for Wednesday, August 3rd, 2016 from 9:00 pm to after midnight (as needed). It will be mostly making characters, and learning the background of the setting, and setting up the first adventure. If people aren't too tired, we'll try to squeeze in a quick first "scene" to see how the basic play mechanics work.
I will be posting review information, and adventure updates (if any) on the Spokane RPG website (in the associated forum and/or blog): http://www.spokanerpg.com
This game system uses their own rules system, it is not directly based on another generic system (such as D&D, GURPS, BRP, etc.).
NOTE/REMINDER: I record most of my game sessions (audio & video), as part of my ongoing accumulation of research data. This particular group may be posted on youtube, or at the very least shared with the game creator(s) for feedback on the game. If you are not comfortable with this, you will not want to be in this group.
UPDATE: This group has already filled up for now. After we get the hang of the system/setting, if it is liked well enough for more sessions, I may open up some more seats later.
Happy Gaming! 
-Hawke