Interdisciplinary RPG Therapeutics
by Hawke Robinson —
published

Jun 20, 2015 05:05 PM,
last modified

Feb 05, 2023 12:22 PM
While listening to some research on neurological music therapy program descriptions, I was struck by the overlap of the RPG Therapy programs as a very interdisciplinary delivery of services...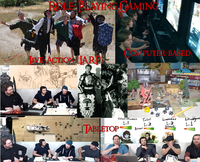 A number of the programs I have created include multiple disciplines such as Recreational Therapy[+] ( RT[+] ) / Therapeutic Recreation[+] ( TR[+] ), Music Therapy[+] ( MT[+] ), Neuroscience[+] (Neuro), Psychology[+] (Psy), Physical Therapy[+] ( PT[+] ), Occupational Therapy[+] ( OT[+] ), Speech Therapy[+] ( ST[+] ), all in the bundle of one multi-disciplinary Role-Playing Gaming Therapy ( RPGT[+] ).
I have shared with people a number of the programs that use combined recreation and music with neuroscience and RPG to achieve therapeutic and educational goals for a broad array of populations:
Autism Spectrum (ASD, ADHD, Asperger's, etc.).

Various Developmental Delays

At-risk and troubled youth

Brain injury (stroke, TBI, etc.)

Trauma / PTSD

etc...
For example a program for a client recovering from brain injury such as a stroke, providing multiple therapists attempting to address the bio-psycho-social issues typical for this population, would require many hours of separate appointments with PT, OT, ST, & Psy.
But the program that provides a combination tabletop role-playing game ( TRPG[+] ) and live-action role-playing[+] ( LARP[+] ) activity that includes music, addresses many of these areas all in a single, much more enjoyable (for the client) activity.
Here is an example program outline for such a client:
There is various "mood music" setting the atmosphere for the adventure setting. (MT).

The client is provided a basic "player character" (PC), and has to pick up a die with the weaker-side hand and roll it, observe the result. (PT, RT).

Perform cognitive functions to calculate the basic math (or cross-reference a matrix table) and end determine what would be the end result, which may be day-to-day living or occupational-related tasks adapted within a gaming environment to improve engagement. (OT, PT, RT).

The client then verbally express those results to the therapist, allowing the therapist to make any corrections as needed, and the Therapeutic Recreation Specialist (TRS) or Role-Playing Game Therapy Specialist (RPGTS) provides a gaming-context explanation of the results and the tasks to be undertaken, with back and forth dialog and verification of verbal comprehension. (ST, RT).

The client then performs the task, usually some sort of repetitive physical or verbal task, such as walking x times around room/area, while related "mood" music plays, with a strong metronomic aspect as research shows this improves performance in such tasks, using such rhythms to synchronize movements, and/or may include singing along, all within a gaming context and achieving skills development for either day-to-day tasks or occupational goals, and involving social interaction skills, cooperative problem solving, conflict resolution, abstract conceptualization of self, etc.. (MT, OT, Psy, PT, ST, RT)

Then perform end task.

Then roll for next task(s), etc.
With proper baseline assessment and tracking for progression in specific areas of anatomical kinesthetics, gross & fine motor skills, adduction & abduction, overall flexibility and control, spasticity, cognition function, speech, verbal and written comprehension, mood, affect, expression, etc. these multi-variable issues can be addressed simultaneously in an engaging task.
Research repeatedly shows that if the participant is overly focused on achieving the benefits of the task, rather than just enjoying the task itself, they have less success.
For example, focusing on raising their legs to walk (instead of shuffling), if focusing on "get your feet up so you can walk better" is less effective than "your character needs to step over those hula-hoops to avoid being burned by the rings of fire, and help rescue the captured royal family on the other end of the rings".
Also using bio and EEG to monitor and achieve specific states of concentration, energty, relaxation, flow, etc. with optional provision of  bio/neuro-feedback through music element correlating to heart rate, breathing, etc. (Neuro).
The overlap of neurological tools with the above therapies could modify the related titles as such::
NMT = neurological music therapy (already established term).

NRT = neurological recreation therapy (not aware of this term being standardized yet).

NRPG = neurological role playing game therapy (I am not aware of anyone else use this term previously).
Just some thoughts and observations that I thought might be of interest to others.