Original D&D White Book Box Set
by Hawke Robinson —
published

Nov 07, 2013 04:15 PM,
last modified

Aug 12, 2015 07:57 PM
Just received this reprint of the ultimate in retro / nastalgic role-playing gaming, the Original D&D in a full box set.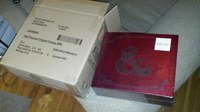 More details coming soon... Photos / video will be uploaded here and on youtube channel.
Very limited print run, apparently already sold out.