Preview & Review of Middle-earth Adventures D&D 5e Role-Playing Game by Cubicle 7 & Mike Mearls
by Hawke Robinson —
published

Jun 20, 2015 05:05 PM,
last modified

Feb 05, 2023 12:22 PM
The creators of The One Ring Role-Playing Game, and Dungeons & Dragons 5th Edition, Francesco Nepitello, Mike Mearls, and others, worked very hard to collaborate in creating the first licensed Tolkien-based game using d20!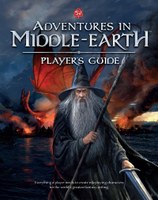 I will be posting results, commentary, and some video, maybe through Hangwith? These reviews and video will initially only be available to Patreon Supporters. The general public will be provided access some days/weeks/months later. Please consider supporting the RPG Research project, even just $1/mo over time, from a variety of people, will help considerably.http://patreon.com/rpgresearc
My background in role-playing games goes back to the 1970s. My Background in Tolkien studies to the early 1980s. I am founder of the Ea Tolkien Society (http://tolkienscholars.org), Other Minds Magazine (http://omzine.org) since 2005, Tolkien Moot annual gaming convention since 2005 (http://tolkienmoot.org),  the Middle-earth Role-Playing Community since 1998 (http://www.merp.com), the Ea Role-Playing Gaming systems (http://earpg.com), and much more related to RPGing and Tolkien. We were one of the first 70 groups to receive the original The One Ring RPG, half a year before the general public, and showcased it online via Tolkien Moot.
I have had the PDFs for months, but the hard copies of the Player's Guide for the Middle-earth focused adaptation of Dungeons & Dragons 5th Edition from Cubicle 7 recently arrived. I will be running 3 play testing groups. I will be receiving the Loremasters Guide in PDF format soon (hardcopies aren't available until Spring 2017+).
The play testing groups will consist of:
Group #1 with my regular The One Ring RPG (TOR) players, comparing the TOR-ification of the d20 rules from the TOR perspective. This group typically meets 1-2 times per month on Fridays, consists of 2 young teenage girls, a teenage boy, a female adult (upper 40s), male adult (early 40s), and of course myself as GM (mid-40s).
Group #2 with my regular Worlds of Beru Rolemaster (and other systems) group. This group consists of a female young adult in her 20s, male young adult in his 20s, a 16 year old boy, and a male in his early 30s (and myself as GM). We meet weekly on Tuesdays.
Group #3 will be all new players, that have never been any of my groups previously, recruited through meetup, from a pool of around 600+ members. I will want 4 to 5 players. Probably every-other-week on Sundays.
As a thank you to Patreon supporters, I will post reviews & video on this RPG review as updates here in Patreon long before making the updates available to the general public. Remember, your donations support additional free sessions for special needs populations (http://rpgtrailer.com), additional research on the effects of all forms of role-playing games (http://rpgresearch.com) and their potential uses to achieve therapeutic and educational goals for people with specific needs.