RPG Research 2015 Update
by Hawke Robinson —
published

Jun 20, 2015 05:05 PM,
last modified

Feb 05, 2023 12:22 PM
Here is a video summary of the past year, and upcoming year, for the RPG Research Project.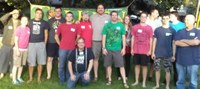 Year-end status update for 2015. Includes many a thank you to all the people that have been so helpful with the many aspects of the research and goals. Includes information about the past year (a whirlwind of events!), and looking ahead to what is already in the queue for 2016.
http://www.rpgresearch.com
Research studies on the educational and therapeutic aspects of participation in role-playing games.
DONATE TO THE WHEELCHAIR FRIENDLY RPG TRAILER NOW
Topics covered in video include:
VICE Media interviews and articles

Michael J. Tresca Interviews

#RPGNET Q&A

ZoeCon II Presentation

WSTRA 16 Seattle Children's Hospital Presentation

WorldCon 73 / Sasquan Presentations, panels, poster, etc.

Research projects status updates

& Much more! 
Related Links & References
This lists the links in order of mention in the video, and also includes additional links that didn't make it into the video before release:
DONATE TO THE WHEELCHAIR FRIENDLY RPG TRAILER NOW:
Music by Synthetic Zen (Hawke Robinson) - http://www.syntheticzen.com - "Alchemy Alpha Prime" from the upcoming "Zentropy" album.
Scheduled for release February 20th, 2016, through Indie Air Radio: http://www.indieairradio.com
The Donors List Update at this page: http://www.rpgtrailer.com/donors
 Thank you to the many anonymous donors and to:
Jason Alan McLain

Michael Auyan

Professor Sarah Lynne Bowman, PhD

Michael J. Tresca

John Muir

Barry Drake

Sandra Buskirk

Christopher Kelly

Daniel Goldman of Geekers Keep

Cliff & Rose

Synthetic Zen supporters
Thank you so much for all your support!