The RPG Research Project's Public Meeting and Broadcast, August 5th, 2017
by Hawke Robinson —
published

Jun 20, 2015 05:05 PM,
last modified

Feb 05, 2023 12:22 PM
The RPG Research Project meets, and broadcast publicly, regarding current events, research, discoveries, etc. pertinent to The RPG Research Project. People from all related efforts around the world are invited to join in sharing their updates as well. This tends to be more high level than our podcast/vidcasts, mostly providing a brief overview for people. Meetings range anywhere from 15 minutes to an hour, depending on other participants contributions. Sometimes it is just a quick summary status update of the past month, and the upcoming month. Everyone is welcome to join in the conversation!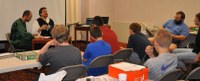 View RPG Research Live Stream (begins 11:00 am Pacific): https://www.youtube.com/user/rpgresearch/live
See our new Public Schedule Calendar: http://www.rpgresearch.com/calendar
Here is link to this month's meeting broadcast agenda: https://docs.google.com/document/d/1MhxoIGhiuDHNbaZ9T6HrDAX1_Cqu7Qq56LDfoU_DSaU/edit?usp=sharing
On the first Saturday of each month, 11:00 am Pacific Time. If you can't participate this month, please consider joining next month. Meetings typically run from 15-60 minutes, sometimes as long as 2 hours (by request).
If you would like to participate via audio/video, rather than just text, contact Hawke via Skype: dev2devportal and we will relay you via Open Broadcast Server to our Youtube Channel.
People from all related efforts are welcomed to attend and share their updates as well. This is a monthly interdisciplinary meeting, open to the public, to very briefly summarize, and discuss the current state of the RPG Research project(s) and all other efforts globally by any others researching, developing, and/or implementing role-playing gaming in all forms (tabletop, live-action, computer-based, etc.) as an intervention modality for diverse populations to achieve therapeutic and educational goals.
Beginning intermittently around 2007 offline, the meetings have grown to move online and become monthly interdisciplinary meeting, open to the public, to discuss the current state of the RPG Research project(s), and all other efforts globally by any others developing and/or implementing role-playing gaming in all forms (tabletop, live-action, computer-based, etc.) as an intervention modality for diverse populations to achieve therapeutic and educational goals.

Currently takes place online, or at various on site locations via the Wheelchair Friendly RPG Trailer. Contact Hawke directly for location information or to join the meeting directly: rpgresearcher at gmail dot com

Participants include anyone that wishes to attend at the office (please contact in advance), otherwise attendees are encouraged to join the live conversations by listening/watching/attending online through Google Plus Hangout and our Youtube stream at http://www.youtube.com/rpgresearch  
Archives of previous meetings can be found at the above channel and on the www.rpgresearch.com/meeting-notes website.

Meeting contact information:
Website: http://www.rpgresearch.com
Google+: https://plus.google.com/+Rpgresearch
Youtube Channel: https://www.youtube.com/rpgresearch
W.A. "Hawke" Hawkes-Robinson
Email: rpgresearcher at gmail dot com
US Voicemail / Skype: (509) 252-0800
US Cell Phone/Text: (509) 481-5437

RPG Research Office:
1312 North Monroe, Suite #114
Spokane, Washington, USA
99201