Submitting Phase 2 Survey on Gender Experiences in RPG
by Hawke Robinson —
published

Jun 20, 2015 05:05 PM,
last modified

Feb 05, 2023 12:22 PM
Submitting to the Washington State University (WSU) Institutional Review Board (IRB) the survey for phase 2 on Survey of Gender Experiences in the Gaming Community and/or Industry this week.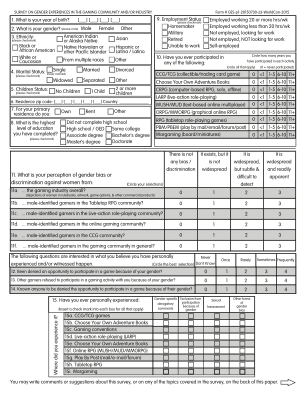 Submitting phase 2 of "Survey on Gender Experiences in the Role-playing Gaming Community and/or Industry" to WSU IRB this week, to implement at WorldCon August 19-23. Hoping will receive the waiver and meet the deadline. It will then take up to 10 business days to see if the project receives and IRB waiver. If it does not qualify, then it will likely not make it in time for WorldCon. Fingers crossed it all goes well.
Many thanks to Phyllis Eide, Ph.D., Eva Schiavenato, and Professor Sarah Lynne Bowman for their invaluable help. Especially Phyllis for offering to be the Primary Investigator to make the WSU resources available.
Also many thanks to the earlier guidance for phase 1 from Donna Carolyn, MSW, and Jim Toms, MSW.
Disclaimer: I am an undergraduate student at Eastern Washington University nearing completion of an interdisciplinary degree in recreation therapy, music therapy, neuroscience, and research psychology. This research is not in any way affiliated with EWU. More on my background at: http://rpgresearch.com/staff/hawke-robinson
Besides typical demographics questions, here are some examples of some of the questions asked:
10. Have you ever participated in
  any of the following:
 CCG/TCG (collectible/trading card game)
 Choose Your Own Adventure Books
 CRPG (computer-based RPG, solo, offline)
 LARP (live-action role-playing)
 MUSH/MUD (text-based online multiplayer)
 ORPG/MMORPG (graphical online RPG)
 RPG (tabletop role-playing games)
 PBM/PBEM (play by mail/email/forum/post)
  Wargaming (board/miniatures)
11. What is your perception of gender bias or discrimination against women from:
The gaming industry overall? (depictions the gaming of women industry in rulebooks, overall?
 artwork, game options, & other commercial products)
Male-identified gamers in the Tabletop RPG community?
Male-identified gamers in the Live-action role-playing community?
Male-identified gamers in the online gaming community?
Male-identified gamers in the CCG community?
Male-identified gamers in the gaming community in general?
Possible answers to 11:
There is not any bias/discrimination
It exists, but is not widespread
It is widespread, but subtle & difficult to detect
It is widespread & readily apparent.
The following questions are interested in what you believe you have personally experienced and/or witnessed happen.
12.   Been denied an opportunity to participate in a game because of your gender?
13. Other gamers refused to participate in a gaming activity with you because of your gender?
14. Known anyone to be denied the opportunity to participate in a game because of their gender?

 Possible answers for 12,13, & 14:
Never / Dont know
Once
Rarely
Sometimes
Frequently
15. Have you ever personally experienced:
Gender-specific derogatory comments
Exclusion from participation because of gender
Sexual harassment
Other forms of gender bias
Where did you experience:
CCG/TCG games
Choose Your Own Adventure Books
Gaming conventions
Live-action role-playing (LARP)
Choose Your Own Adventure Books
Online RPG (MUSH/MUD/MMORPG
Play By Post (mail/e-mail/forum)
Tabletop RPG
Wargaming