Summer 2017 Schedule
by Hawke Robinson —
published

Jun 20, 2015 05:05 PM,
last modified

Feb 05, 2023 12:22 PM
Is it nearly June, and here is a quick overview of what is already scheduled for this summer...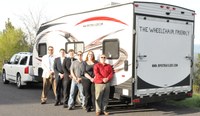 Here is a list of the larger events and research milestones expected over this summer:
May 22-23 - RPG Training Retreat #1, Pend O'Reille County Park
June 4 - Two Videos (5 minutes each) on RPG & Psych topics: Flow State (Mihaly Csikszentmihalyi), and Group Formation/Dynamics (Tuckman principles)
June 15 - Fractured Minds Podcast host Jeff Renoe interviewing Hawke (4:00 pm)
June 15 - Last day of finals for Spring Quarter (Midnight)
June 6 - Zombie Orpheus Entertainment (ZOE) Interactive Community & Video Streaming Platform phase 1 Launch
June 16 - Resume and ramp up spreading the word for folks to RSVP for Tolkien Moot XIII - http://www.tolkienmoot.org
June 17+ - Accessibility Documents for Spocon - http://www.spocon.org
June 18-19+ - Research documentation for Tolkien Moot XIII campaign, theme: Mordor - http://www.tolkienmoot.org
June 19-20 - RPG Training Retreat #2 - location pending. More LARP focused.
June 21-24+ - Update from 2nd edition using 3rd edition layout, submit Draft for 4th edition book - full chapter 25-35 pages, on Role-Playing Games for, "Facilitation Techniques in Therapeutic Recreation, to submit for review/editing by Professor Dattilo and Professor Alexis "Lexi" McKenney.
June 24-25+ - Muscular Dystrophy Association (MDA) LARP & RPG #1 (Battle Royale) documentation completed
June 25-26+ - MDA LARP & RPG #2 (The Quest) documentation first draft
June 27+ - The Hutton Settlement?
June 27+ - The Spark Central?
June 27+ - Spokane VA?
June 27+ - Spokane Community Center?
June/July ?? - ZOE platform phase 2 work.
July 1-3 - MDA LARP & RPG #2 quest documentation completed
July ??? - Navos Mental Health, King County, Train their staff on RPGs - Schedule pending
July 15 - Tolkien Moot XIII Annual Convention - http://www.tolkienmoot.org
July 18 & 20 - Muscular Dystrophy Association (MDA) camp, drum circles, LARP, and RPG sessions.
July 21-30+ - Work on research report paperwork for the WSU IRB approved "Experiences of Gender Bias in the Gaming Community and Industry" phase II research analysis.
August 1 - Deadline for completion of analysis and report written of research study on gender bias experiences in gaming community and industry - Needs to be completed before/by August. Publication submission pending completion of report.
August 11-13 - Spocon -

http://www.spocon.org

- Speak on multiple panels & Presentation of Wheelchair Friendly RPG Trailer
August ~21-30+ - RPG Trailer 4th tour - Schedule pending after Spocon, Route proposed: Spokane, Washington, through Oregon, to Oakland, California for Abantey Role-Play Workshop, then to San Diego, California, then through Arizona, Nevada, Utah, Montana, & Idaho, back to Spokane, WA. (Assuming budget allows).
September ?? - MDA Expo - Schedule Pending (September)
September ?? PAVE Autism Spectrum (ASD/PDD) Tacoma group - Schedule pending
This schedule could change without notice, though every effort will be made to update this page as details solidify or change.