RPG Gender Bias Research Stage 2 - Status Update
by Hawke Robinson —
published

Apr 15, 2015 12:40 PM,
last modified

Feb 02, 2018 02:41 PM
Just a quick update to let folks know where I am at on this project....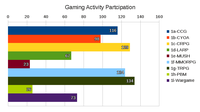 Here are all of the earlier postings related to this project in order from first posting at the top, to most recent at the bottom. Note this research initially pre-dates all the later "Gamergate" events.
Pilot Program (Phase 1) - 2013:
Update on Phase 2 Survey on Gender Experiences in RPG:
Another Update on Phase 2 Survey, IRB Waiver through Washington State University (WSU):