Volunteer ASL proficient Game Master for Role-Playing Game sessions. Deaf & HoH Community in Greater Spokane Area
by Hawke Robinson —
published

Jun 20, 2015 05:05 PM,
last modified

Feb 05, 2023 12:22 PM
RPG Research, a non-profit charitable 501(c)3 organization, is looking for a volunteer American Sign Language proficient game master for tabletop role-playing games.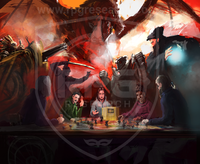 We are looking for an American Sign Language proficient volunteer Game Master for tabletop Role-Playing Games.
Game system may include:
Dungeons & Dragons 5th Edition (D&D 5e)
Adventures in Middle-earth (AiMe)
Star Wars RPG
The One Ring Role-Playing Game (TOR RPG)
No Thank You Evil (NTYE)
In needed, we will train an ASL proficient person interested in becoming a Game Master (GM) for one or more of the above systems.
RPG sessions on the 2nd & 4th Friday each month, at free and open to the public 501(c)3 Spark Central near downtown Spokane, Washington.
From 4:00 pm to 7:00 pm (setup at 3:30 pm, be out the door 7:00 pm sharp).
Spark Central: 1214 West Summit Parkway, Spokane, Washington 99201, USA. Contact RPG Research (not Spark Central) for more information.
Here is the related schedule: Spark Central Drop in and RPG.
Qualifications:
Proficient with ASL (conversational enough to run an RPG session as GM).
At least some RPG GM experience preferred, though we are willing to train anyone interested. If you are Deaf or Hard of Hearing, our organization founder has some ASL proficiency, so can work with you, as long as your patient, to help you learn to GM a group.
Needs to meet the RPG Research GMing skills requirements for a proficient GM in a public setting, especially with youth players from ages 5 through 17 and up.
Must pass background check since will be working with youth.
Please contact Hawke Robinson for more information if interested:
Email: rpgresearcher at gmail dot com
Phone (text): (509) 608-763
Phone (Voice): 1-822-RPG-INFO
Here are some links to the older programs going back as far as 2007:
Spark Central if a non-profit 501(c)3 community services center.
RPG Research is a non-profit 501(c)3 charitable organization freely providing RPG sessions to Spark Central serving the greater Spokane area community.